Forum home
›
Babies
›
Baby
Three facts and a piccy x
Ok, so i nicked this from 'my baby was born in Dec 08' off Bubbub, so i hope she doesn't mind but it was just such a fabulous thread i wanted to post it here.
Just give three facts about yourself, and post a piccy (obv. don't post a piccy if you're uncomfy with it after all the trollness) xxx
OK, me...
1. I used to trampoline for Great Britain. I was supposed to go to Sydney olympics with the gymnastics squad but in qualifying someone took my photo with a flash camera and i landed on my head. Never bounced competitively again.
2. Since having my son i often find myself talking to my husband in the same way i would talk to lo, using gooey wooey wording and baby voice... and it usually works lol, go figure!
3. I am terrified of snakes. If i see one on tv i am physically frightened and quite often sick. This all stems from seeing a slo-worm in my garden as a kid. I told my parents there was a snake in the garden and they called out the RSPCA lmao!!
Me on my wedding day: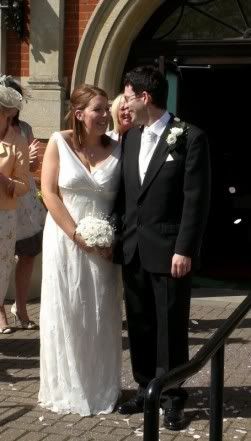 [Modified by: JamDonut on 09 February 2009 13:42:36 ]