Forum home
›
Archived Birth Clubs
›
My baby was born in Nov 2011
Our 20 week scan story
Yet again I woke up as a total bundle of nerves this morning, anxiously awaiting my scan and blood tests at the hospital. Why can I never be chilled out about these things?
Anywho, our sonographer appointment was at 11:40am and we were seen at 11:55am - bladder full and ready! However, it seems that bubba didn't seem to want to co-operate as it was giving us a fantastic shot....of the top of its head. It even brought up its little hands as if to say 'get off my head!'. The sonographer did as many measurements as she could but then said that if we were to have a hope of getting a nice picture, we had to go out for a walk and a wiggle and try and get the baby to turn. She also remarked that my bladder seemed rather full so I should go empty it(!) Even though the whole point is to turn up full!
So off we went for a tour of Paediatrics, wiggling our arses at the kiddly-winks in the waiting room like all good crazy people should. We gave bubba a good talking to and then returned to the sonographer at 12:30pm....
...by which time bubba had indeed turned over but was still being incredibly modest about showing us its bits - much preferring to remain curled up instead. I did find that really touching as I LOVE sleeping with my legs curled up, even if I have the space to stretch out - just like this little one still does...for now!
Not to be outdone, the sonographer gave it a good few pokes with the wand and I performed a bed-top hip shake to startle bubba into stretching out its legs - which it did on each occasion ever so briefly. I even had to turn onto my side so that the sonographer could get a decent picture.
Turns out, the munchkin was being modest about flashing its bits LIKE EVERY LITTLE GIRL SHOULD BE!
Sonographer wasn't 100% certain, but from what she could make out, there was nothing in between the legs to indicate that it was male - and she was fairly sure that we were expecting a little girl.
Kiran and I were over the moon. We were convinced it was a boy, but turns out that we were both secretly hoping it might be a girl

Here's two pictures of our gorgeous little daughter...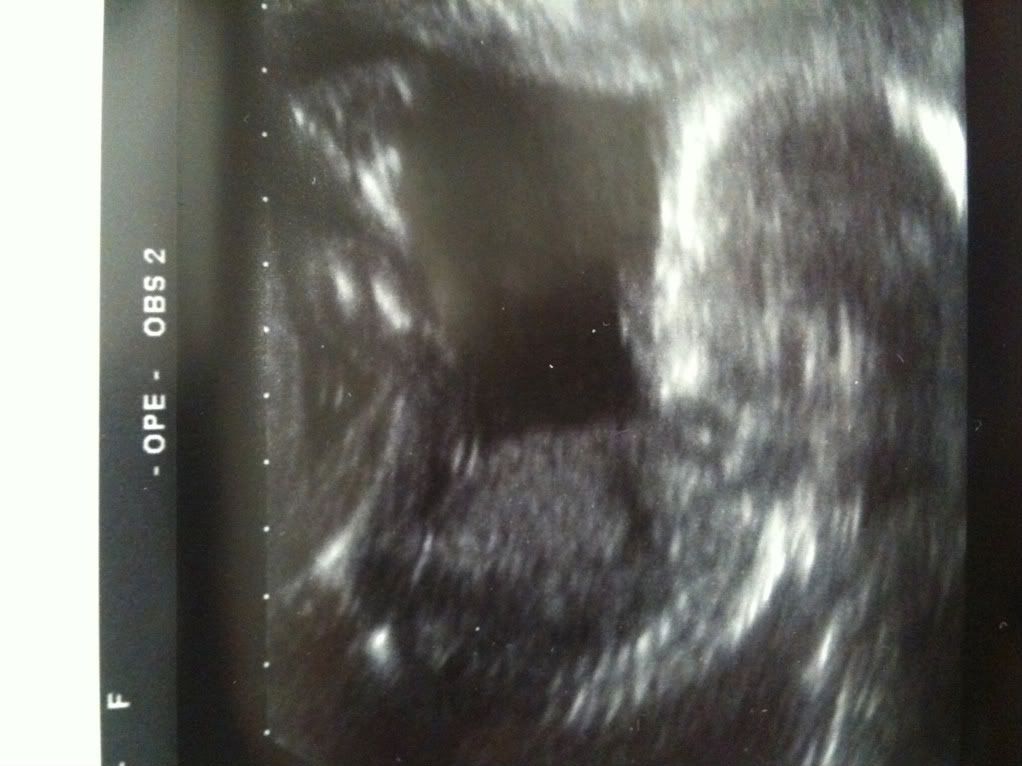 Sonographer session done, we pop down to the maternity unit (which looks GORGEOUS since it's been all done up in lovely bright colours and lights) to get my bloods done. Again. *sigh*
But this midwife was ever so nice and understanding, and had a good long chat with us to help me calm down and relax. She was also really good with her needle too, and I hardly felt it when they took FIVE vials (count em! Five!) from me.
So that's us done for a couple of weeks. Seeing the community midwife again on 27th June so looking forward to that.
A long day, but a very very good one.

Seems like it was a little too much in one day for the husband though!