Forum home
›
Pregnancy
›
Pregnancy
lurker but 4D pics
I normally lurk here but just wanted to share my 4D scan experience! I think since April is looming and my little one will soon be here it's time to come out of hiding and make some friends
)
We're pretty sure now we have a little lady in there - legs wide open for all to see haha! She had both her hands on her face at 1st so we checked the placenta site because I was told it was low at 20 weeks and did all her measurements.
Estimated weight is 2lb 8oz...is that about average?? I'm pretty sure she said it was but cant remember - was too busy laughin about her hands being over her face
Placenta is still a bit low - it's 2.86cm from the cervical os...she said they like to see 3-4 but was VERY confident that by 36 weeks we'll be well clear of the os (crossing fingers as I dont want a c/section) She said that segment of the uterus doesnt usually stretch out til gone 30 weeks so as I only have a cm or so to go then shes almost certain we'll be in the clear :1up: I'll keep everything crossed til then.
My little baby Aimee was very sleepy and nothing really woke her. Got some fab pics tho - esp ones of her sucking her cord...never seen that before but it was SO cute!!
This is my fave pic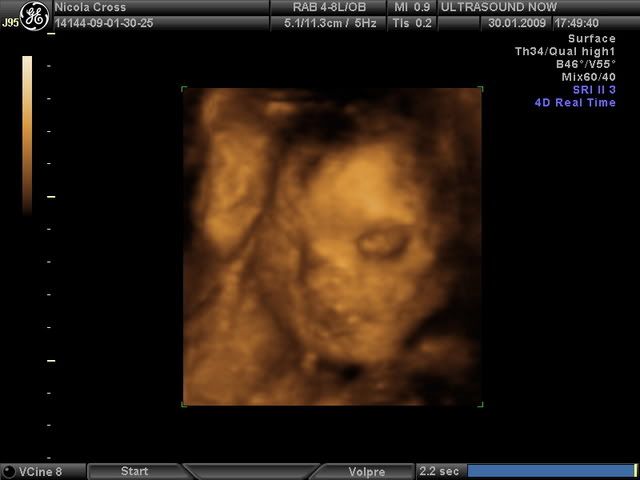 Sucking the cord haha