Forum home
›
Getting pregnant
›
Very faint line on test! Help!

cosmicliv
New
Hey everyone! ☺️
So here's a little background info:
I got my IUD taken out on March 2nd, 2021. So approximately 4 weeks ago. I have been trying to get pregnant since then, and today I decided to take a test to see if I've been successful. So here it is, I see a faint second line, very very faint but more noticable in natural lighting. I want to see if anyone else can see it! I'm really excited so let's hope I'm not simply imagining it and getting my hopes up! I wonder if it's so light because I'm so early on.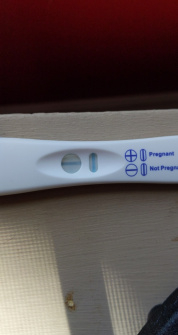 Feel free to take a second and let me know if you see the faint second line or not. 
Have a beautiful day. 🦋