Forum home
›
Getting pregnant
›
TTC July 2022 ☀️

elexox
Regular
Hey ladies, 
Ive been MIA for a while having bloodwork and scans to try and identify the drivers of my PCOS. Also had frequent episodes of heavy spotting for the past 2-3 months, Drs still don't know what the cause is, suspected to be PCOS. 
Nothing else abnormal going on other than increased androgens in blood and PCO on ultrasound. Last BFP was Jan 2021 which ended in MC, no bfp since 😓
Last cycle was 61 days long, no ovulation. 
This cycle is going quite well so far, no spotting at all 🤞🏼
My body is so strange!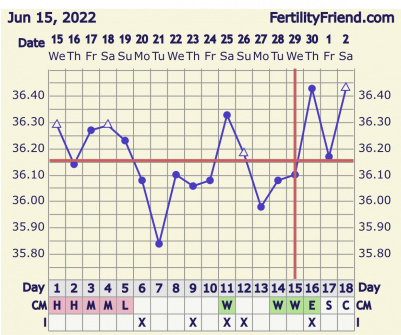 Not quite sure what to think of my chart really, very rocky temps, FF seems to think I'm 3DPO based on bbt and fertile signs but only time will tell I guess! I'm not totally convinced on a CD15 ovulation, it seems far too good to be true! 😅
How is everyone else doing? 
xx