Forum home
›
Babies
›
Weaning
Mum called a 'tramp' for breastfeeding in public: ever had a bad public breastfeeding experience?
Hello.
We've just seen this story about Emily Slough, a mother from Rugeley in Staffordshire, who was called a 'tramp' for breastfeeding her daughter in public.

A photo of her breastfeeding her 8-month-old baby girl Matilda was posted on a local community Facebook page, with the following words: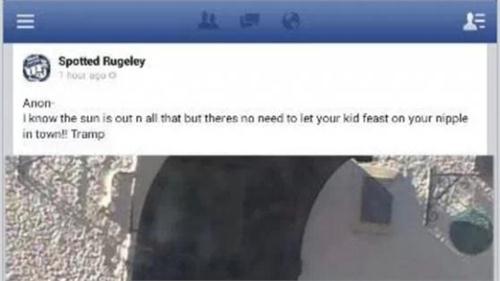 Emily says she was shocked and angered by the post. "I am very confident and comfortable with my breast feeding," she says, "but I know plenty of women who aren't and don't even humour the idea of nursing because of some ridiculous stigma attached to it and fear of embarrassment, humiliation and non-acceptance.
"I was initially going to ignore the post but then I realised that this is a perfect example of what needs to be erased in modern day society. Why should mothers who are doing the best by their children feel that they should be confined to a toilet or changing room to provide their baby with nutrients? Would you eat in a toilet or with a blanket draped over your face?"

And, in response Emily has organised a mass breastfeeding protest in Rugeley at 12pm on Saturday 15th March.
What do you think of Emily's response? And have you ever had a similar experience trying to breastfeed in public?
Please do tell!